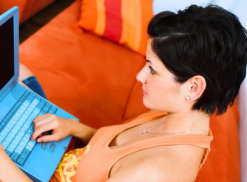 Online Banking & Bill Pay
Point. Click. Bank. With First Robinson's Netteller, you can manage your accounts and pay bills from virtually anywhere.
This free service lets you log on to your accounts securely from any internet connection. There's no waiting in lines and our online branch is never closed. It's free, fast, and easy—gotta love that!
Summary

Instant access to all FRSB accounts and loans

See real-time balance information

See if a check has cleared or payment has posted

Transfer funds between accounts

Pay bills online

View balance and payment history

View cleared checks

Download history to finance software, such as Quicken, QuickBooks, MS Money

Sign up for free eStatements

Set up account alerts for balance thresholds, certain events, and more

Available 24/7 from any computer

Highly secure and easy to use




Online Banking User Guide (PDF)










Bill Pay

Say good-bye to postage fees. Even better, say good-bye to licking envelopes. Make payments to any person or business in the United States with online bill pay.

Fast, free, and easy to use

Pay all bills through one secure screen

Store payee information for repeated use

Make one-time payments or set up recurring payments

Schedule payments in advance

Avoid late payments

Search payment history

Available 24/7 from any computer