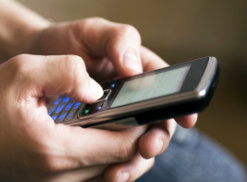 Mobile Banking
We considered providing a personal teller to travel with each of our customers wherever they go, night and day. After exploring the logistics of this, we came up with an alternative: mobile banking.
This free service puts the power of online banking in the palm of your hand. Transfer funds, pay bills, view real-time balances, and more.
We have updated our app! If you have previously used our app, you will need to uninstall the previous version and download the latest version of our app at the links below.
Summary

Free, 24/7 use from any smartphone

Instant access to all FRSB accounts and loans

Pay bills with online bill pay

See if a check has cleared or payment has posted

Transfer funds between accounts

View balance and payment history

View cleared checks

View account alerts for balance thresholds, certain events, and more

Highly secure and easy to use

Mobile Banking User Guide (PDF)