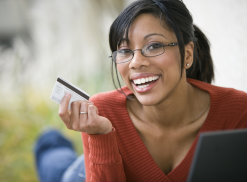 ATM & Debit Cards
We may not have hovercars and robot maids, but some things we take for granted would be Jetsons-like to someone from the 1950s. Like ATM and debit cards.
This teeny piece of plastic gives you access to all your funds, and you can use it millions of places worldwide. Just swipe it and it works like magic. And actually, come to think of it, robot maids might be real by now too.
Summary

Use your debit card wherever Visa® is accepted

No fees or finance charges

Funds are deducted directly from your account

Safer, easier, and faster than cash or check

Easily replaced if lost or stolen

ATM card for use at ATMs only

Transfer funds between accounts

Can make deposits at ATMs

To replace a lost or stolen debit card, call us immediately at 618-544-8621. If it is outside our normal business hours, call the 24/7 support center at 800-791-2525.