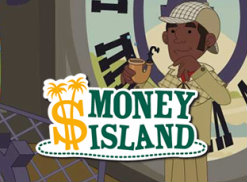 MoneyIsland
Get in your submarine and save Stone Broke! MoneyIsland is a fun-filled world where kids go on exotic quests—becoming financial gurus along the way.
This free online world is full of adventure, and even comes with real-world rewards. Kids can play at home or entire classrooms can embark on the quests together. Behind all the fun and games, kids will learn valuable financial skills that will last a lifetime.
Summary

Geared for kids ages 8 to 14

Free, multi-level online game

Ongoing interactive content

Teaches valuable financial skills

Real-life rewards built into game

Kids earn a $10 gift card when they save Stone Broke

Classes playing together get a group pizza party

Parents and teachers can track progress and assist in learning

Additional lesson plans/activities provided to adults

Physical passport and stickers enhance the experience

Lessons aligned with national standards of Jump$tart Coalition for Financial Literacy

First Robinson Savings Bank provides MoneyIsland for free. It is part of our commitment to serve our community by helping future generations have the financial smarts they need to succeed.