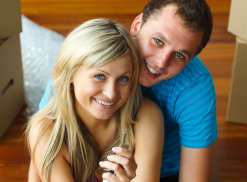 Home Mortgage Loans
If you're buying a home in the Wabash Valley, why would you ask someone on Wall Street for permission? Doesn't make sense to us either.
Our low, home mortgage loan rates are outdone only by our incredible service. All decisions are local at First Robinson, and the servicing will remain local. It's not only the right thing to do, it creates faster closings and better service for the life of your loan.
Summary

Low, competitive rates

Wide range of home loan options

Informative, personal advice according to your situation and needs

Local decision-making

Fast, streamlined closing

In-house servicing—your mortgage stays at FRSB

First time homebuyer opportunities

Fixed rates and adjustable rate mortgages (ARM) available

Construction loans available

Refinancing available for lower monthly payments

Mortgage Options

Fixed Rate

A fixed-rate mortgage allows you to lock in your interest rate for the entire term of your loan. The advantage to a fixed-rate mortgage is that your monthly payment never changes. Typically, the shorter the loan term, the lower the interest rate.

Adjustable Rate

We also offer adjustable rate mortgages (ARM) that start with a rate good for an introductory period—typically 1 or 3 years. After this initial period, the rate adjusts annually based on a predetermined index (i.e. 1-year U.S. Treasury bill). Payment due dates are flexible. An ARM can be a good choice if you are expecting to live in your home for less than five years and can also help you qualify for a larger loan.

USDA Loans

We offer USDA Guaranteed loans to customers who may not have a down payment on a home. We can finance up to 100% of the purchase price of the home plus closing costs subject to qualification for the program. These are 30-year fixed rate loans. There are household income limits for eligibility of USDA loans. Though loans are federally guaranteed, decisions and servicing are still made locally by FRSB.




Refinancing

Refinancing could be right for you if you are looking to reduce your monthly payments, shorten the length of your loan, convert equity to cash, or convert an ARM to a fixed rate. When rates have dropped compared to your existing rate, you may want to consider refinancing. There are costs associated with refinancing, but they can be rolled into the new mortgage instead of out-of-pocket. We can help you figure out your "break even point" to determine if refinancing makes long-term sense for you.




Construction Loans

FRSB offers convenient financing for building a home from the ground up or for remodeling an existing home. During construction, funds will be disbursed as you need them, with interest only on the disbursed amount, thereby reducing your interest payments.

Escrow

Escrow accounts are available on both fixed rate and adjustable rate mortgage loans. This allows you to set aside your real estate taxes and/or homeowners insurance on a monthly basis rather than having to come up with the entire amount at once. Escrow payments become part of your regular monthly house payment and the bank takes care of paying your taxes and homeowners insurance when it comes due.