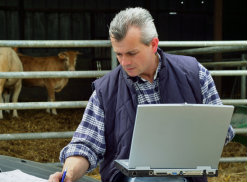 Online Cash Management
Simplify your recordkeeping with online cash management with First Robinson. The basic service is free, and it will help create greater efficiency as you manage your business accounts.
Gain added benefit by adding payroll services, allowing direct deposit to your employees' accounts no matter where they bank. What's more? Take care of your expenses with online BillPay.
Summary

Real-time account info

Initiate direct deposit for employees

$5 fee for each ACH origination

Saves time and makes payroll more efficient

View and download statements

Download account info into money management software

View and print check images

Available 24/7 from any computer

Highly secure and easy to use

Can assign levels of clearance to each authorized user

BillPay

Make your commercial payments to any person or business in the United States with online bill pay.

Fast and easy to use

Pay all bills through one secure screen

Store payee information for repeated use

Make one-time payments or set up recurring payments

Schedule payments in advance

Avoid late payments

Search payment history

Available 24/7 from any computer

Monthly Service Fee of $5 with the first 10 transactions free

$0.50 for every transaction after 10