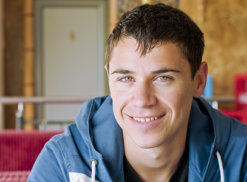 Bounce Protection
It could be an innocent math error or an emergency repair. But there may be times when there is not enough cash in your checking account to cover a payment. Never fear, Bounce Protection is here.
First Robinson provides multiple overdraft protection methods. You can link to another deposit account, and you can also utilize Bounce Protection. Checks, automatic payments, and online payments are covered, and you can request coverage for ATM withdrawals and everyday debit card purchases.
Summary

Overdraft protection can prevent denied purchases

Avoid additional merchant fees or credit dings

Can link checking to a FRSB savings account

Automatic transfer covers the overdraft

$10 fee per overdraft transfer

Bounce Protection automatic coverage

We may automatically cover your overdrafts on checks, automatic bill payments, and other transactions using your checking account number

$30 fee for each overdraft item

More Info

At First Robinson Savings Bank, we do not encourage overdrafts. As always, we encourage you to manage your finances responsibly. However, we want to save you from additional merchant fees and possible damage to your credit history that might result if a check is returned. That is why we provide Bounce Protection.

Once an overdraft has occurred you are required to bring your account to a positive balance within 30 days. We reserve the right not to pay if your account is not in good standing. Contact us if you have questions.