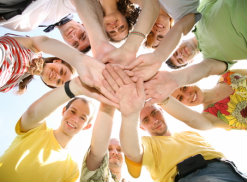 Community Involvement
First Vincennes Savings Bank opened January 2009 and had an immediate impact. Already considered to be the only REAL COMMUNITY BANK in Knox County, our reputation for reinvesting in the local area has made us the fastest growing bank in town. We recently donated $100,000.00 to the Red Skelton Museum Foundation located on the campus of Vincennes University. But our every day commitment and involvement with other groups, such as Good Samaritan Hospital, Indiana Military Museum and underwriting several community events at the Riverfront Pavilion have a much broader effect.
When there is a need in our community, we are there to provide help—whether as a monetary contribution, volunteer time, or establishing a fundraiser. We are proud of our standing as a leading donor to local charities and civic organizations.
We believe in building communities for a better way of life and strong economy for future generations. We support our local schools by paying for several school-related services, student handbooks, t-shirts, and more. Our free MoneyIsland financial education product is another extension of our commitment to our youth's education and financial well-being.
To schedule an event contact us at 812-885-9018.