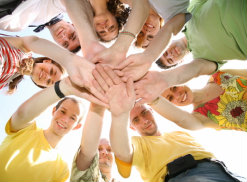 Community Involvement
When there is a need in our community, we are there to provide help—whether as a monetary contribution, volunteer time, or establishing a fundraiser.
We are proud of our standing as a leading donor to local charities and civic organizations. We believe in building communities for a better way of life and strong economy for future generations. We support our local schools by paying for several school-related services, student handbooks, t-shirts, and more. Our free MoneyIsland financial education product is another extension of our commitment to our youth's education and financial well-being.
First Robinson Savings Bank supports a number of organizations in Wabash Valley. One of our most popular activities are our famous fundraising cookouts. Last year alone we hosted almost 20 fundraising cookouts that raised over $11,000 for local community outreach groups. Our events reach out to several groups including Robinson Police Canine Unit, Crawford Memorial Hospital, Oblong Chamber of Commerce, as well as churches and individuals with life threatening illnesses.
To schedule an event contact Bill Sandiford or Carol Zellars at 618-544-8621.