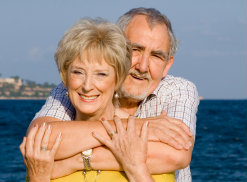 Good Life Club
Come join the Good Life Club! In addition to an interest-bearing checking account with exclusive extras and savings, we organize several trips every year. All you need is 50 birthday candles on your cake, and you're in! Come join a real community of friends and fellow adventurers.
Good Life Travel Club
2015 Trips
February 28, 2015 Disney on Ice - FROZEN - $90 per ticket
April 9 - 17, 2015 Canyon Country (Sorry this trip is sold out)
May 13, 2015 Boggstown, IN
Life Is A Cabaret - Join us for a delightful day at the Boggstown Cabaret. Enjoy a delicious lunch prior to an afternoon of Ragtime & Dixieland music plus the comedy that Boggstown is famous for.
Price: $105.00 per person for FRSB customers - $110.00 per person for FRSB guests
June 10 -11, 2015 MEET ME IN ST. LOUIE
We will experience "A Walk in 1875 St Louis" at the Missouri History Museum. Tour Forest Park and St. Louis Art Museum, Grant's Farm, Anheuser Busch Brewery, and Busch Stadium. We will also enjoy the Chinese Lantern Exhibit at the Botanical Gardens where we will be viewing more than 20 larger than life, lighted works of art crafted from silk and steel creating one of China's most treasured events - The Lantern Festival.
Price: $315.00 per person for FRSB customers - $325.00 per person for FRSB guests
July 18, 2015 JUNGLE JIM'S/IKEA IN FAIRFIELD, OH
Shop at Jungle Jim's International grocery store and IKEA. Over 6 acres of shopping space, Jungle Jim's has over 150,000 items from which to choose. Bring your shopping bag and cooler. Spend time at IKEA looking through the different rooms with unique and useful furniture that would fit into any home. There is plenty of room on the bus to bring your treasures home.
Price: $115.00 per person for FRSB customers - $120.00 per person for FRSB guests
Aug 17 - 22, 2015 THE MAJESTY OF NIAGARA FALLS
Travel with us as we experience Niagara Falls, up close and personal. Tour Rock & Roll Hall of Fame in Cleveland, OH and Lucy-Desi Center Museum in Jamestown, NY. Shopping at the "Made in America" store. Dinner at Top of the Falls Restaurant in the Niagara Falls State Park. Enjoy a boat ride on the Maid of the Mist to Niagara Falls. Dinner and Show at OH! Canada, EH?
Note: A PASSPORT IS REQUIRED FOR THIS TRIP.
Price: $1200.00 per person for FRSB customers - $1210.00 per person for FRSB guests
September 15, 2015 MYSTERY TRIP
Only Chuck, Judy and the bus driver know where we are going on this fun-filled day. Come join us!!!
Price: $90.00 per person for FRSB customers - $95.00 per person for FRSB guests
November 10 -13, 2015 A SALUTETO AMERICAN HEROES
Let's celebrate Veterans Day- Branson Style!! This is an exciting trip which will center on our Veterans. We will be attending Branson's 82nd Annual Veterans Day Parade on November 11th. This is an exceptional parade honoring all Veterans. We will also be seeing 3 shows which includes Presley's Country Jubilee, SIX, and Jonah at the Sight &Sound Theater. We will be entertained aboard the Showboat Branson Belle with a delightful lunch, cruise and show. Enjoy dinner at Lambert's on our way home.
Price: $675.00 per person for FRSB customers - $685.00 per person for FRSB guests
Contact Judy about special pricing for Veterans on this trip.
December 3-4, 2015 MAGNIFICENT MILE, WOODFIELD MALL & MORE
Christmas shopping on Michigan Avenue in Chicago, IL. The Christmas decorations will be in full display. Day 2 we will have shopping opportunities at Woodfield Mall, Chicagoland's largest mall. Come join us!!
Price: $220.00 per person for FRSB customers - $230.00 per person for FRSB guests
All trips are priced on a minimum of 30 travelers.
Call Judy Schiller at 618-544-3751 or email goodlifeclub@frsb.net to reserve seats for these trips.