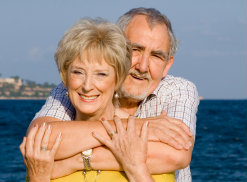 Good Life Club
Come join the Good Life Club! In addition to an interest-bearing checking account with exclusive extras and savings, we organize several trips every year. All you need is 50 birthday candles on your cake, and you're in! Come join a real community of friends and fellow adventurers.
Good Life Travel Club
2015 Trips
October 6-9, 2015 THE MIGHTY MISSISSIPPI "GALEN IL & DUBUQUE IA" ** NEW TRIP**
The Good Life Travel Club is planning a NEW TRIP for 2015. We are leaving October 6, 2015 for Galena, IL, a historic town that boasts numerous shopping opportunities with dinner at the Irish Cottage. Then it is on to Dubuque, IA, a quaint river town. We will visit the Field of Dreams movie site, the National Farm Toy Museum, and the National Mississippi River Museum and Aquarium. On day 3, we have an all day cruise aboard the Celebration Belle for a trip down the Mighty Mississippi with a buffet breakfast, lunch and dinner plus live entertainment and beautiful scenery on our way to Moline, IL. Our final day we will tour the John Deere Pavilion and Visitors Center prior to making our way home.
Price: $665.00 per person, 2 per room for FRSB customers - $675 per person, 2 per room for FRSB guests.
Contact Judy at 618-544-3751 for your reservations. THIS IS A NEW TRIP ON OUR 2015 SCHEDULE!!!
October 13, 2015 COVERED BRIDGE - MANSFIELD, IN ** NEW TRIP**
Contact Judy at 618-544-3751 for details and to make reservations.
November 10 -13, 2015 A SALUTE TO AMERICAN HEROES
Let's celebrate Veterans Day- Branson Style!! This is an exciting trip which will center on our Veterans. We will be attending Branson's 82nd Annual Veterans Day Parade on November 11th. This is an exceptional parade honoring all Veterans. We will also be seeing 3 shows which includes Presley's Country Jubilee, SIX, and Jonah at the Sight &Sound Theater. We will be entertained aboard the Showboat Branson Belle with a delightful lunch, cruise and show. Enjoy dinner at Lambert's on our way home.
Price: $675.00 per person for FRSB customers - $685.00 per person for FRSB guests
Contact Judy about special pricing for Veterans on this trip.
December 3-4, 2015 MAGNIFICENT MILE, WOODFIELD MALL & MORE
Christmas shopping on Michigan Avenue in Chicago, IL. The Christmas decorations will be in full display. Day 2 we will have shopping opportunities at Woodfield Mall, Chicagoland's largest mall. Come join us!!
Price: $220.00 per person for FRSB customers - $230.00 per person for FRSB guests
All trips are priced on a minimum of 30 travelers.
Call Judy Schiller at 618-544-3751 or email goodlifeclub@frsb.net to reserve seats for these trips.