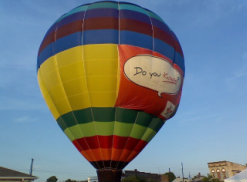 About Us
First Robinson Savings Bank has called Wabash Valley home since 1883. We're proud to be an independent, locally-owned community bank.
We're committed to offering premium accounts and services that can't be found at typical banks. Innovations like Kasasa Cash, Kasasa Saver and MoneyIsland are changing the way banking works, by giving you the power to do more with your money.
We are equally driven to provide our region with the latest technology innovations in the industry, including online banking, bill pay, mobile banking, and more. We're able to provide these advancements while retaining the unsurpassed level of personal service and dedication unique to our deep community roots.
Community Involvement
First Robinson Savings Bank supports a number of organizations in the Wabash Valley. One of our most popular activities are our famous fundraising cookouts. Last year alone we hosted almost 20 fundraising cookouts that raised over $11,000 for local community outreach groups. Our events reach out to several groups including Robinson Police Canine Unit, Crawford Memorial Hospital, Oblong Chamber of Commerce, as well as churches and individuals with life threatening illnesses.
To schedule an event or to borrow our grill, contact us at 618-544-8621.